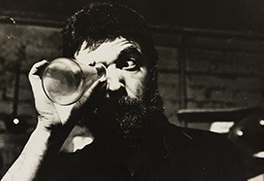 Summer 2014
Praised by T.S. Eliot and best friends with Harry Smith, Lionel Ziprin was a mystic and poet whose archive is a source of fascination for many contemporary artists, especially Carol Bove, who now houses it in her New York studio. Andy Battaglia chronicles Ziprin's life and friendship with Harry Smith for Frieze, writing:
Sequestered in a room-sized safe in the bowels of Brooklyn is a collection of artifacts – books, boxes, manuscripts, tracts, paintings, prints, recordings, a ratty old rocking chair – that once belonged to the New York mystic Lionel Ziprin. It comprises a lifetime's worth of accumulation, by a figure whose legend is little known. Before his death in 2009, Ziprin was a secretive oracle of the Lower East Side, with a wealth of knowledge that ranged from the cryptic to the rabbinical to the supernatural and back again. Some of his belongings are religious documents that date as far back as the 17th century. Others align with postwar American forays into formative psychedelia and realms of the occult. Much of it is esoteric; all of it is mysterious, suggestive or at least a little bit otherworldly and strange. 'It didn't just feel like moving materials,' said the sculptor Carol Bove, whose studio in the outer reaches of Red Hook was enlisted two years ago to give the collection its current home. 'It was an event.'
Among the makers of the materials, closely guarded by Ziprin during his lifetime and suspected to hold special powers still, included Jordan Belson, Wallace Berman, Bruce Conner, Diane di Prima, Allen Ginsberg, Angus MacLise, Harry Smith andJoanne Ziprin – a litany of artists whose wanderings between disciplines and disparate strains of thought defined a subsection of the 1950s and '60s countercultural scene. From Ziprin, artists attained access to deep teachings of Kabbalah and all manner of gnostic doctrine. (An early meeting with Harry Smith included communion over The Great Beast, John Symondsǯs 1951 book about Aleister Crowley.) From the artists, Ziprin gained an audience for his intensely networked and wildly idiosyncratic mind.
Read the full article here.
06/01/2014