FILM WORKS
[Note: The present numbering system for Smith's "cinematic excreta" was introduced by the filmmaker at an undetermined time prior to 1964-5, when the works surviving to that point were assembled and made available for 16mm distribution via the Film-Makers' Cooperative. This filmography is consequently not comprehensive: an unknown number of films are lost, and in some cases the present sequence contradicts earlier numbering systems that are referenced in sources prior to 1951. Titles are given where known or generally accepted, though for the earlier films these may have been subject to change as the works were variously edited and screened. It should also be borne in mind that many or most of the films were designed for an expanded presentation context (such as special screens, masking slides, and the like.)]
Film Number 1 A Strange Dream (ca. 1946-48) color; hand-painted 35mm stock photographed in 16mm; soundtrack: "Manteca" by the Dizzy Gillespie Orchestra; 2:20 min.
Film Number 2 Message from the Sun (ca. 1946-48) color; hand-painted 35mm stock photographed in 16mm; soundtrack unknown; 2:15 min.
Film Number 3 Interwoven (ca. 1947-49) color; hand-painted 35mm photographed in 16mm; soundtrack: "Guarachi Guaro" by the Dizzy Gillespie Orchestra; 3:20 min. (reportedly edited down from ca. 30:00 min.).
Film Number 4 Fast Track (ca. 1949) color (shot of painting depicting the recording "Manteca" by the Dizzy Gillespie Orchestra) and black & white (superimposition experiment); 16mm; silent; 2:16 min.
Film Number 5 Circular Tensions (Homage to Oskar Fischinger) (ca. 1950) color; 16mm; silent; 2:30 min.
Film Number 6 [Untitled 3-D Abstraction] (ca. 1950) red/green anaglyphic 3-D; 16mm; silent; 1:30 min.
Film Number 7 Color Study (ca. 1950-51) color; 16mm; silent; 5:25 min.
Film Number 8 [Untitled Black & White Collage] (ca. 1957) black & white; 16mm; soundtrack unknown; ca. 5:00 min. [untraced].
Film Number 9 [Untitled Color Collage] (ca. 1957) color; 16mm; soundtrack unknown; ca. 10:00 min. [untraced].
Film Number 10 Mirror Animations (ca. 1957) color; 16mm; soundtrack unknown; 3:35 min.
Film Number 11 Mirror Animations (ca. 1957) color; 16mm; soundtrack "Misterioso" by Thelonious Monk; 3:35 minutes (see also Film Number 17).
Film Number 12 [Untitled; Named "Heaven and Earth Magic Feature" by Jonas Mekas ca. 1964] (ca. 1957-62) black and white; 16mm; sound; 66:00 min.
Film Number 13 Oz (ca. 1962) color; 35mm widescreen; stereophonic sound; unrealized, except for one sequence: "The Approach to Emerald City" (soundtrack: Ballet Music from Gounod's Faust; ca. 5:00 min.) and an unknown quantity of camera tests (reportedly 3-6 hr.), of which only ca. 15 min., in the form of non-color-corrected rushes, is known to survive (see also Films Number 16, 19, and 20).
Early Abstractions (assembled ca. 1964): contains Films Number 1-5, 7, and 10. Original print silent; an accompanying soundtrack by The Fugs on reel-to-reel tape was used until ca. 1965; subsequently an optical soundtrack taken from the LP Meet the Beatles (Capitol Records) was added.
Film Number 14 Late Superimpositions (1964) color; 16mm; soundtrack: beginning of Aufsteig und Fall der Stadt Mahagonny by Bertolt Brecht and Kurt Weill (1956 recording; Columbia Records); 31:00 min. Filmed in New York, New York, and Anadarko, Oklahoma.
Film Number 15 [Untitled Animation of Seminole Patchwork] (ca. 1965-66) color; 16mm; silent; ca. 10 min.
Film Number 16 Oz: The Tin Woodman's Dream (ca. 1967) color; 35mm widescreen; silent; 14:30 min. (Consists of "The Approach to Emerald City" [see Film Number 13] plus kaleidoscopic footage shot ca. 1966.)
Film Number 17 Mirror Animations (Extended Version) (1979) color; 16mm; soundtrack: "Misterioso" by Thelonious Monk; 11:00 min. (Consists of Film Number 11 printed forward-backward-forward.)
Film Number 18 Mahagonny (ca. 1970-80) color; 16mm four-screen process; soundtrack: Aufsteig und Fall der Stadt Mahagonny by Bertolt Brecht and Kurt Weill (1957 recording; Columbia Records); 141:00 min.
Film Number 19 [Untitled Excerpts from Film Number 13] (ca. 1980) color; 35mm widescreen; silent; running time unknown [untraced].
Film Number 20 Fragments of a Faith Forgotten (1981) color; 35mm widescreen; silent; 27:00 min. (Consists of Films Number 16 and 19)

Sound Recordings
[Note: Smith's involvement with sound recordings dates from the 1930s. The following section is divided into a Discography of known commercial releases (both as recording engineer and compiler) and a listing of Recording Projects from various stages of Smith's career that have not yet been released.]
DISCOGRAPHY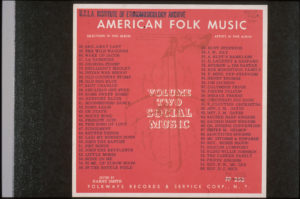 Anthology of American Folk Music (1952) originally released as six 33-1/3 rpm 12″ long-playing records in three gatefold-jacketed double-album sets: Ballads (FP 251), Social Music (FP 252), and Songs (FP 253) by Folkways Records & Service Corp., N. Y. Edited by Harry Smith, from 78 rpm commercial recordings in his collection originally recorded between 1926 and 1934; included illustrated 24-page 8 1/2″ x 10 7/8″ booklet of detailed notes written and designed by Smith. Reissued on six compact discs in 1997 by Smithsonian Folkways Recordings, Washington, D. C., with additional 68-page 12″ x 12″ booklet and enhanced multimedia content (SFW 40090).
Rabbi Naftali Zvi Margolies Abulafia, Talmudic Legends and Liturgical Songs (1954) privately released as 15-LP set. Recorded by Harry Smith. 1,000 sets pressed; all but a handful of copies believed lost.
The Kiowa Peyote Meeting (recorded 1964) 3-LP set with 12-page booklet by Smith, released in 1973 as Ethnic Folkways Library FE 4601.
The Village Fugs (1965) Broadside Records BR- 304 (released through Folkways Records). Reissued on ESP-DISK in 1966 as The Fugs First Album, and in CD format with bonus tracks under the same title in 1994 (Fantasy FCD-9668-2).
Allen Ginsberg, First Blues: Rags, Ballads and Harmonium Songs (recorded ca. 1970-72; released 1981) Folkways Records (37560).
COVER ARTWORK

The Equinox Vol. The Holy Books of Thelema by Aleister Crowley, 1986 Weiser Books
Ginsberg, Allen. Collected Poems, 1947-1980 (New York: Harper and Row, 1984).
—. White Shroud, Poems 1980-1985 (New York: Harper and Row, 1986).
—. The Annotated Howl (New York: Harper and Row, 1986).