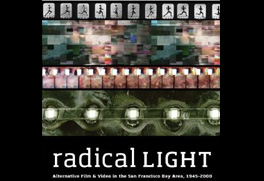 In celebration of the publication of Radical Light: Alternative Film and Video in the San Francisco Bay Area 1945-2000 the Pacific Film Archive and San Francisco Cinematheque present a landmark exhibition of experimental film and video.
The series' guest speakers include George Kuchar, Peter Hutton, Chip Lord, ErnieGehr, Lawrence Jordan, Wilder Bentley II and many others.
The series is curated by Steve Anker, Kathy Geritz, and Steve Seid.
Read more about Radical Light here.
09/17/2010 - 03/31/2011