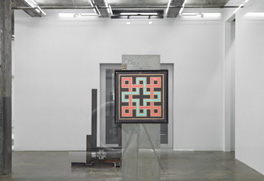 Maccarone presents 'RA, or Why is an orange like a bell? a solo exhibition of work by Carol Bove. In conjunction with Bove's sculptural arrangement of metals, found material and concrete at 630 Greenwich Street, she and Philip Smith have curated Qor Corporation: Lionel Ziprin, Harry Smith and the Inner Language of Laminates –a parallel exhibition at 98 Morton Street of recently discovered artwork and materials from the Lionel Ziprin archive.
These presentations share a common denominator, their close proximity conjuring up the metonymic measures and enigmatic core of the uncontainable and ever- shifting nature of the abstract gesture.
More information about both exhibitions is available here.
09/07/2013 - 10/19/2013
Location
The Cleaners, Portland, OR