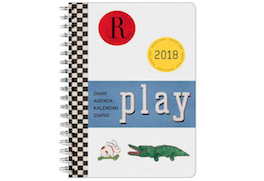 By Julian Rothenstein
Published by Redstone Press, London
Play is, by definition, disinterested activity. It crucially lacks utility. It takes place in a time out of time. Play is, nevertheless, governed by powerfully purposive impulses: we act within the rules of engagement and learn what it is to live with ourselves and with others. Play is essential to human being. We learn to play; we play to learn. Redstone's Play Diary is itself playful. It plays with the idea of play every day of the year. Expect the unexpected. Artists and writers at play include: Bruno Munari, Paul Klee, David Shrigley, Glen Baxter, Maurizio Cattelan, Olga Rozanova, Harry Smith, Lydia Davis, e e cummings, Charles Baudelaire, and Saul Steinberg.
01/01/2017