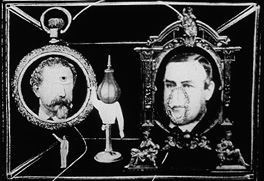 The Carnegie Museum of Art inaugurates its exhibition Ordinary Madness with a screening of Heaven and Earth Magic. Ordinary Madness presents a series of comparisons across media and time period, revealing how artists engage these conditions of dissonance and fracture—so integral to art-making and yet threatening to a comfortable understanding of the world around us.
At the heart of the exhibition are the strengths, quirks, and unique history recorded in the museum's collection of contemporary art. Ordinary Madness revisits major works acquired through past Internationals, and brings out others that have not been on view in many years, if ever.
Featuring work by Vito Acconci, Pawel Althamer, Robert Arneson, Lynda Benglis, John Bock, Charles Burchfield, James Lee Byars, Paul Cadmus, Paul Chan, Larry Clark, Trisha Donnelly, Red Grooms, David Hockney, Isa Genzken, Robert Gober, Dan Graham, Philip Guston, Rachel Harrison, Karen Kilimnik, Mike Kelley, Barry Le Va, Henri Michaux, Mary Miss, Catherine Opie, Damian Ortega, Laura Owens, Ken Price, Doris Salcedo, Peter Saul, Lara Schnitger, Joe Tilson, Christopher Wool, and others.
More about the exhibition here.
10/14/2010
Location
Anthology Film Archives, New York