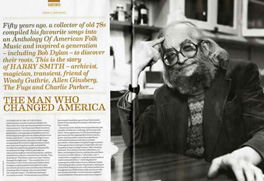 Music Millennium and the Alberta Rose Theatre in Portland present a live music tribute to The Anthology of American Folk Music. Performers include Lauren Sheehan, Bob Shoemaker, The Ghost of Harry Smith and James Low.
Artist, filmmaker, and musicologist Harry Smith was born in Portland, and he changed the world with music. Old Weird Americana is a celebration of his legendand legacy and the 60th anniversary of the release of his Anthology of American Folk Music. In-store performers include Ural Thomas, Joe McMurrian, Lewi Longmire, Bob Shoemaker, David Lipkind, Kory Quinn, Miz Kitty, and more.
The Anthology of American Folk Music was a compilation of recordings of American folk and country music commercially released as 78 rpm records between 1926 and 1932. The anthology was released in 1952 on Folkways Records as three two-LP sets. In 1997, the album was re-released as a boxed set of six compact discs on Smithsonian Folkways Recordings. In 2000, a fourth installment of the anthology, conceived of in the '50s but abandoned, became available on Revenant Records. TheAnthology is generally thought to have been enormously influential on the folk & blues revival of the '50s and '60s, and brought the works of Blind Lemon Jefferson, Mississippi John Hurt, Dick Justice and many others to the attention of musicians such as Bob Dylan and Joan Baez, and featured such legendary acts as The Carter Family and Clarence Ashley.
Smith edited and directed the design of the anthology, including the cover art, which featured a Theodore de Bry etching of a monochord which Smith had taken from a mystical treatise by scientist/alchemist Robert Fludd. Smith also penned short synopses of the songs in the collection, which were made to resemble newspaper headlines—for the song "King Kong Kitchie Kitchie Ki-Me-O" by Chubby Parker, Smith notes: Zoologic Miscegeny Achieved Mouse Frog Nuptuals [sic], Relatives Approve. Smith culled selections from his amassed personal collection of 78 rpm records, picked for their commercial and artistic appeal within a set period of time, 1927 to 1932. Smith chose those particular years as boundaries since, as he stated himself, "1927, when electronic recording made possible accurate music reproduction, and 1932, when the Depression halted folk music sales." Smith earned a belated Grammy, the Chairman's Merit Award, for his contribution to this collection shortly before his death in 1991.
More information available here.
05/12/2012
Location
Butlins, Minehead, UK