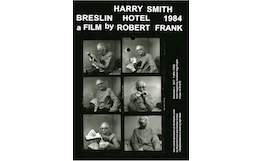 Raymond Foye and Howl! Happening are pleased to present an evening celebrating the legendary filmmaker, painter, and folklorist Harry Smith. The event includes the New York premiere of Harry Smith Breslin Hotel NYC, a short film by Robert Frank; a panel discussion; and a screening of Smith's animated films with live music by High Water, songwriter and saxophonist Will Epstein's changing collective of electronic swing and improvised incantation.
Always on the verge of homelessness, for eight years Smith occupied a tiny room in the Breslin, a welfare hotel on Broadway and West 29th Street. Forced to move when the residence was sold and converted to a luxury hotel, Robert Frank documented Smith packing his belongings and leaving his home for a Bowery shelter, where he occupied a tiny steel wire mesh cubicle for several years before being rediscovered and rescued by Allen Ginsberg.
The short will be shown twice, before and after a panel discussion featuring Raymond Foye and Charles Compo, two friends who spent a great deal of time with Harry in his room at the Breslin Hotel. Although it was one of the most reclusive periods in Smith's life, it was also most productive. He saw very few people, but edited his epic multi-screen magnum opus film No. 18: Mahagonny. He also compiled several recording projects (on the Kiowa, and on shape-note singing) and returned to painting.
This program is produced in conjunction with Brett De Palma's exhibition Dreaming on the Bowery: Post-Apocalyptic Paintings, on view from November 18 through December 20, 2017. See more about the exhibition here

12/01/2017
Location
Howl!