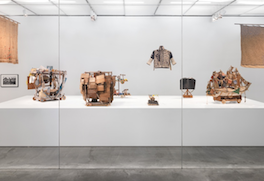 See Harry Smith's Untitled work of eighteen string figures mounted on board, framed at the New Museum's current exhibition, "The Keeper."
"The Keeper" is an exhibition dedicated to the act of preserving objects, artworks, and images, and to the passions that inspire this undertaking. A reflection on the impulse to save both the most precious and the apparently valueless, it brings together a variety of imaginary museums, personal collections, and unusual assemblages, revealing the devotion with which artists, collectors, scholars, and hoarders have created sanctuaries for endangered images and artifacts. In surveying varied techniques of display, the exhibition also reflects on the function and responsibility of museums within multiple economies of desire.
Through a series of studies and portraits that spans the twentieth century, "The Keeper" tells the stories of various individuals through the objects they chose to safeguard, exposing the diverse motivations that inspired them to endow both great and mundane things with exceptional significance. As responses to loss, chronicles of experience, subjective quests, and archives for the future, the unusual collections and personal museums that are presented range from staggeringly maximalist efforts to modest struggles charged with urgency. The exhibition also emphasizes images and objects that testify to historical trauma or dramatic events, representing the act of preserving as a resolution to bear witness and to remember. Clandestine efforts to save or protect, often taken at great risk, attest to an indefatigable faith in the power of images to heal and comfort, and a desire to honor what survives in spite of the effects of violence or time.
As the specter of iconoclasm continues to resurface in current events, "The Keeper" presents the complex lives of images and objects that have escaped a tragic end alongside the existential adventures of individuals driven by unreasonable acts of iconophilia.
07/20/2016 - 09/25/2016
Location
New Museum