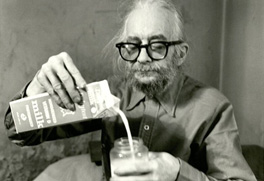 The American Academy in Rome proudly presents Milk Revolution a group show compiled by CURA and curated by Ilaria Marotta and Andrea Baccin inspired by Harry Smith's attempt to turn milk into milk.
Drawing upon this alchemical premise, the exhibition brings together the work of fellows from the American Academy in Rome and a selection of international artists. The works included outline "an unsystematic, anti-narrative, fluid path, an open device, which contravenes the common sense of a concise thought and amalgamates temperaments and moods associated with changes of state, metamorphosis, the temporal span of the work, in an anarchical opposition of elements pitted against approval and control. In the abstract dimension of the exhibition space, the mutantand regressive process acts as a counterpoint to an aestheticized, timeless and suspended ambivalence, probing whims of resistance, autonomy and escape, but also empathy and unpleasantness, fascination and revulsion for the elements."
Read more about the exhibition here.
01/29/2015 - 03/01/2015