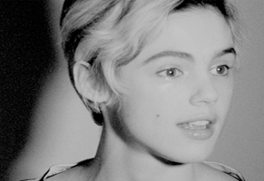 Rare Andy Warhol Screen Tests from the 1960s of figures including Bob Dylan, Allen Ginsberg, Lou Reed, Harry Smith and Edie Sedgwick screen nightly on billboards in New York's Time Square.
Of the screen tests Tim Tompkins president of the Times Square Alliance said: "Andy Warhol is one of 20th century New York's foremost icons. It's an honor to showcase his rarely-seen snapshots into the lives of leading musicians and artists of the 60's, and bring the era back to the present-day cultural center of Times Square."
The footage in the program includes: Screen Test: Rufus Collins [ST61], 1964; Screen Test: Walter Dainwood [ST66], 1964; Screen Test: Bob Dylan [ST82], 1966; Screen Test: Allen Ginsberg [ST115], 1966; Screen Test: Donyale Luna [ST195], 1965; Screen Test: Nico [ST239], 1966; Screen Test: Lou Reed (Apple) [ST268], 196; Screen Test: Twist Jim Rosenquist [ST284], 1964; Screen Test: Edie Sedgwick [ST309], 1965; and Screen Test: Harry Smith [ST314], 1964.
Read more about the program here.
05/01/2015 - 05/31/2015
Location
American Academy in Rome