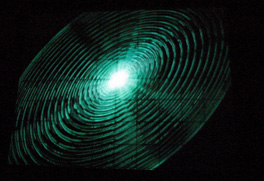 Aurora Picture Show presents the 9th annual Media Archeology Festival from Thursday, September 20 to Saturday, September 22, 2012 in Houston. Presented by Aurora Picture Show in collaboration with both the Cynthia Woods Mitchell Center for the Arts at the University of Houston and Nameless Sound.
Media Archeology: Real Time will present artists whose work is a hybridization of moving images and acoustics to explore the relationships and open the definitions of film, music, art and performance. From innovative new technologies to traditional analogue methodologies these artists fuse genres to create a contemporary interdisciplinary experience grown out of sound and light.
Thursday, September 20, 7:30PM
Opening Night Party featuring films by Semiconductor | Curated by Robert Crouch | Location: Aurora Picture Show, 2442 Bartlett | Free Admission
On the first night of the festival, Aurora kicks off our annual Media Archeology Festival with a party and presentation of films by Semiconductor. Semiconductor is artist duo Ruth Jarman and Joe Gerhardt based in the UK. Semiconductor literally makes films out of scientific data, sound and music, transforming it into a visual material to imagine new landscapes and worlds. They have developed a long term and rigorous practice that draws on innovations in science and media to form a visually and sonically rich body of work. Over the course of their career they have collaborated with a wide range of musicians and sound artists including Oren Ambarchi, DAT Politics, Hauschka, BJ Nilsen, and Cristian Vogel.
Friday, September 21, 7:30PM
Heart Chamber Orchestra | Performed by Two Star Symphony | Curated by Bree Edwards | Presented by Cynthia Woods Mitchell Center for the Arts at the University of Houston | Location: Barnevelder Movement/Arts Complex, 2201 Preston Street
An audiovisual performance where the music literally "comes from the heart". The Heart Chamber Orchestra consists of 12 classically trained musicians from Houston based Two Star Symphony and the electronic artist duo TERMINALBEACH. Usingtheir heartbeats, the musicians control a computer composition and visualization environment. The musical score is generated in real time by the heartbeats of the musicians, who are wearing electrocardiogram sensors.
TERMINALBEACH is a collaboration between PURE (Vienna/Berlin) and BERGER (Helsinki) which began in 2002.
Saturday, September 22, 7:30PM
Text of Light | Co-presented with Nameless Sound | Curated by Aurora Picture Show and Nameless Sound | Location: Barnevelder Movement/Arts Complex, 2201 Preston Street
Nameless Sound and Aurora present a unique night of Text of Light. Text of Light does not perform soundtracks to the films of Stan Brakhage. Rather, it uses the film as a further element for improvisation, almost as a fifth (or sixth) performer. While Brakhage intended for these films to be screened silently as films , when framed in and of themselves in a movie theatre, in Text of Light presentations they are being juxtaposed with the music, in a kind of real-time performance, mixed-media collage. The Brakhage films included will be Mammals of Victoria, Beautiful Funerals, and Aftermath.
Performers for the Media Archeology event will be Tim Barnes, Ulrich Krieger, Alan Licht, and Lee Ranaldo.
09/21/2012 - 09/23/2012
Location
The Menil Collection, Houston, TX