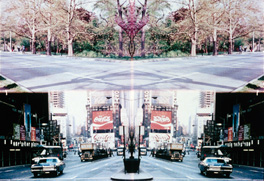 Filmmaker, anthropologist, painter, and musicologist Harry Smith worked on Film # 18, Mahagonny, his final film, for over ten years and considered it his magnum opus. His cinematic transformation of Kurt Weill and Bertolt Brecht's caustically satirical opera is an allegory that explores human needs and desires amid the rituals of daily life in New York City. The film is a collage composed from a variety of film genres, intercutting portraits of important avantgarde figures, New York City landmarks, and Smith's visionary animation.
The film, newly preserved by the Harry Smith Archives and Anthology Film Archives, will be presented along with a one-day symposium that will investigate the various paths of Smith's creative universe. Patti Smith (who appears in the film) and her band will appear in concert at the Getty Center to cap off the day's events. The symposium is part of the Getty Research Institute's 2001-2002 theme "Frames of Viewing: Experience, Perception, Judgment."
More information available here.
05/30/2002 - 05/31/2002