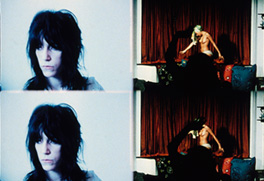 Anthology Film Archives is proud to present the American premiere of the newly restored masterpiece by Harry Smith, FILM #18, MAHAGONNY, as part of a nine-day tribute to the multi-faceted experimental filmmaker, anthropologist, painter, and musicologist.
Harry Smith (1923-1991) worked obsessively on MAHAGONNY for over ten years, shooting it from1970-72 and editing it from 1972-1980. Based on the Kurt Weill and Bertolt Brecht opera Rise and Fall of the City of Mahagonny, the film is an epic, four-screen projection which the filmmaker considered to be his magnum opus and described as a mathematical analysis of Marcel Duchamp's Large Glass. MAHAGONNY is an allegory of contemporary life; it explores the needs and desires of man amid the rituals of daily life in New York City. Smith's New York, like Mahagonny, is a place where everything is permitted and the only sin is not having enough money. Much of the film takes place within the Chelsea Hotel and contains invaluable portraits of important avant-garde figures such as Allen Ginsberg, Patti Smith and Jonas Mekas. These appearances are intercut with installation pieces from Robert Maplethorpe's studio, New York City landmarks of the era, and Smith's unique, visionary animation.
This film represents the completion of an ambitious preservation project by Anthology Film Archives and The Harry Smith Archives. The film was originally shown at Anthology in 1980 on four 16mm projectors with the filmmaker present at each of the screenings. The newly restored print is a composite of all four original 16mm masters (and the Weil soundtrack) which have been optically printed into a single 'tiled' 35mm film image.
To celebrate this landmark preservation achievement, downtown music legend John Zorn will headline a pair of shows dedicated to Harry Smith, his films, and his all-around alchemical lifestyle. The shows will feature rare films by Smith as well as interviews and documentation of the man in action. Zorn and his special guests (T.B.A) will present new compositions and performances inspired by Smith's masterful works. The performances will be held in Anthology's Courthouse Theater on September 12th and 14th at 9:30.
Rounding out this Harry Smith celebration, Anthology will be screening Harry Smith films from our Essential Cinema collection, such as EARLY ABSTRACTIONS, MIRROR ANIMATIONS, HEAVEN and EARTH MAGIC, and OZ, the TIN WOODMAN'S DREAM during MAHAGONNY's theatrical run.
09/13/2002 - 09/22/2002