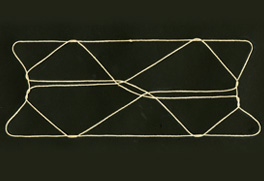 Mara Goldwyn contributes the essay "Harry Smith: 'The Paracelsus of the Chelsea Hotel" to Network Awesome. Goldwyn writes: "There's something fitting about the unrecorded image of Harry Smith (1923-1991) foraging around Fresh Kills Landfill in Staten Island looking for his own artwork. By 1964, after he had failed to pay the rent on his E. 75th St. apartment, his landlord had trashed a good chunk of his oeuvre—including paintings that had been years in the making. He had no recourse but to try and recover them, unsuccessfully, from the 2200 acre dump.
It seems though, despite the fact that this wasn't the first or the last time he would be kicked out of whatever temporary hovel he inhabited, he was forever living among mountains of junk. His collecting—which included Seminole textiles, Ukrainian eggs, paper airplanes, string figures, parakeets, ambient sounds and obscure folk records—has been posthumously estimated to be just as important a work of art as his painting or film."
Full article available here.
05/28/2011