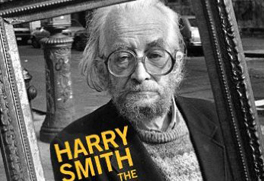 Harry Smith the Avant-Garde in the American Vernacular, a wide-ranging study on Harry Smith's life and work edited by Rani Singh and Andrew Perchuk, is now available for pre-order. Filmmaker, musicologist, painter, ethnographer, graphic designer, mystic, and collector of string figures and other patterns, Harry Smith (1927-1991) was among the most original creative forces in postwar American art and culture, yet his life and work remain poorly understood. Today he is remembered primarily for his Anthology of American Folk Music (1952)–an idiosyncratic collection of early recordings that educated and inspired a generation of musicians and roots music fans–and for a body of innovative abstract and non-narrative films. Constituting a first attempt to locate Smith and his diverse endeavors within the history of avant-garde art production in twentieth-century America, the essays in this volume reach across Smith's artistic oeuvre.
In addition to contributions by Paul Arthur, Robert Cantwell, Thomas Crow, Stephen Fredman, Stephen Hinton, Greil Marcus, Annette Michelson, William Moritz, and P. Adams Sitney, the volume contains numerous illustrations of Smith's works and a selection of his letters and other primary sources.
Andrew Perchuk is assistant director for Contemporary Programs and Research at the Getty Research Institute. Rani Singh is senior research associate in Contemporary Programs and Research at the Getty Research Institute as well as the director of the Harry Smith Archives.
11/01/2009