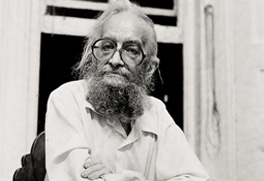 The Getty Research Institute has acquired the papers of Harry Smith (1923–1991), a multidisciplinary American artist and collector who worked in film and painting and was a major cult figure among artists and poets from the 1950s to the 1980s.
This wide-ranging archive consists of writings on film projects and ethnography, documents and photographs related to Smith's early interest in Pacific Northwest Indians as well as a complete collection of his most significant films, audiotapes, and ephemera. Described by scholars, friends, and critics as an alchemical filmmaker, musical archaeologist, and avant-garde shaman, Smith has become an influential yet not widely known figure of the Beat generation.
This archive allows scholars specializing in one aspect of Smith's complex oeuvre to make connections with related practices. Film specialists, for example, will have access to Smith's ambient sound recordings, which served as critical source material for his films. Likewise, scholars studying Smith's personal collections of materials such as pop-up books, gourds, and found paper airplanes will not only be able to evaluate the depth of his ethnographic research but also understand how his collecting and categorizing methods influenced the composition of his own work.
Learn about the Harry Smith papers here.
05/14/2013