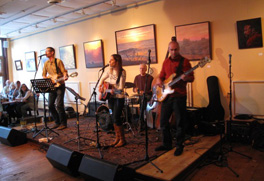 Brewery the Elk Creek Café hosts its third annual Harry Smith festival with musicians performing songs from the Harry Smith Anthology of American Folk Music.
Performers include:
Peter Stampfel, one of the original members of The Fugs whose first album was produced by Harry Smith. Peter went on to found and play with the legendary Holy Modal Rounders, true musical visionaries who inscribed the psychedelic and punk illuminations of old time rural music.
Catherine Irwin, who along with Janet Bean, formed the band Freakwater around 2 decades ago and has put out nearly a dozen most excellent records with Freakwater, solo, and in various in various compilations and collaborations (including a great recent one of Tompkins Square Records featuring the songs of E.C. Ball).
Moore & Sons with Curtis Eller comes from Brooklyn, NY. Chris Moore is maybe best known for his work with Negative Approach, a pioneering hardcore band formed in Detroit in 1981. More recently, in addition to doing shows with Negative Approach and Thurston Moore, he was part of a 77 drummer performance pulled together on 7/7/07 by the Japanese avant-garde noise rock band the Boredoms. His work with the Sons takes a hard left turn into orchestrated 21st century roots folk, assisted by, among others, banjoist Curtis Eller and Lambchopper Dennis Cronin.
Little Silver also out of Brooklyn, is a new collaboration between Steve Curtis and Erika Simonian. Steve is probably best known for his work with Hem. He's toured
and/or split shows with Beth Orton, Wilco, Dawn Landes, Patti Smith, Elvis Costello, Beck, and Vic Chessnut, among many others. Erika Simonian is a singer and songwriter long associated with the great Sprinkle Genies, an indie alt folk rock band out of the lower east side NYC.
The Wringers Harry Smith Festival stalwarts linchpins and keystones, lurking in the shadows, just at the edge of the firelight reveling in all that is unreconstitutedly old and weird, and flickering. From the Lancaster area, they are 21st century throwbacks and direct pals of the Carters and Charlie Poole. The tunes posted on their myspace page are very great.
KC Rounders are local to central Pennsylvania and include Dave Defilippis on mandolin, guitar, banjo, and vocals, Chris Rattie on guitar, harmonica, and vocals, and Cory Neidig on banjo and vocals. These guys have been on the scene for a while, they are local favorites, each play in a bunch of different bands, and we've long wanted to have them a part of this. Chris just got back from LA a few months ago where Don Was produced an album for his other band the Rustlanders.
Hannah Bingmanand Doug McMinn are also local musical luminaries. Hannah has been playing professionally since she was 16, has three albums out and is a great singer, songwriter, guitar and banjo player. Doug McMinn has had a long career as both leader and sideman, playing with dozens of bands in the Central Pennsylvania area. A great singer, guitarist, horn player and all around great guy. Doug and Hannah have been collaborating for years and we're real pleased to have them join us.
The Butcher Boy and Steve are excited and full of weird energy, hailing from the lower reaches of the state of Delaware and the suburban wastes of Washington DC. They have so far resolutely avoiding any trappings associated with fame, fortune and/or association with "luminaries," musical or otherwise.
The Chicken Tractor Deluxe, your host band. The Chicken Tractor plays American Rural Music: raw church music, mountain murder songs, classic country and honky tonk, sheer fuck-all, string band and old time music, all run through the cosmic filter of Dr. Humphrey Bates and his Possum Hunters, Lily Mae Ledford, Gram Parsons, The Wayward Girls, Brother Claude Ely, Sister Rosetta Tharpe, Uncle Dave Macon, Hazel Dickens, Hasil Adkins, Ola Belle Reed, Arthur E. Brumley, etc., etc.
11/14/2010