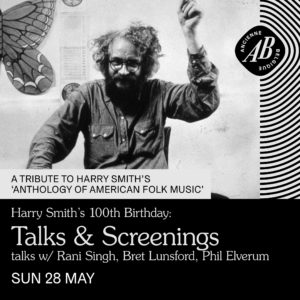 Via Ancienne Belgique:
An ode to Harry Smith's 'Anthology of American Folk Music'
'The Anthology' is perhaps the most important American mixtape ever made.' (Pitchfork)
'Make no mistake – there was no 'folk' canon before Smith's work.' (John Fahey)
This year marks the 100th anniversary of visual artist, experimental filmmaker, musicologist, graphic designer, bohemian, anthropologist and record collector Harry Smith (°1923). That's why AB is hosting a celebration of his master collector piece 'Anthology Of American Folk Music' over the course of three days. This collection is widely acknowledged as the bible for American folk music and features 84 songs, all recorded between 1927 and 1932. In the late 90's the compilation album even received a Grammy Award for 'Best Historical Album'. Rolling Stone described 'The Anthology' as 'One of the greatest releases of all time!' His fanbase? Beck. Beth Orton. Bob Dylan. Elvis Costello. Jack White. Jeff Tweedy (Wilco). And: Nick Cave, who borrowed both 'Stagger Lee' and 'Henry Lee' from 'The Anthology'.
That's plenty of reason for an elaborate tribute on the day Harry Smith would have turned 100 years old. AB is inviting some exquisite musical guests such as Meskerem Mees, Mount Eerie, Sam Amidon (w/ special guest Beth Orton), The Golden Glows, Mike Gangloff, Shovel Dance Collective and Venediktos Tempelboom. They will collectively dive deep into 'The Anthology' and come back up with some personal covers or adaptations of their favourite songs. And some of them will simply tell their story in the spirit of Smith's work.
Rani Singh (director of the Harry Smith Archives and Harry Smith's former personal assistant) and Bret Lunsford (author of the recently published book 'Sounding for Harry Smith') will join us for a Q&A about the legacy he left behind. The documentary 'The Old Weird America' tells the story behind 'The Anthology' and pianist Giovanni Di Domenico will improvise muscially to Smith's short animation films 'Early Abstractions'.
This tribute has been approved and supported by the Harry Smith Archives.
MAY 28th PROGRAMME
SCREENING: 'THE OLD WEIRD AMERICA: HARRY SMITH'S ANTHOLOGY OF AMERICAN FOLK MUSIC';
(DIRECTOR: RANI SINGH – 2007 – 1h30) (at 14h)
A documentary that traces the history of Harry Smith's 'Anthology of American Folk Music'. From Smith's hunt for ancient 78 rpm records to save collective heritage to the groundbreaking release on Folkways Records in 1952, which made everything public. With archive footage of and interviews with Elvis Costello, Beck, Sonic Youth, Beth Orton, Philip Glass, Greil Marcus and more.
TALK: HARRY SMITH'S LEGACY x 'ANTHOLOGY OF AMERICAN FOLK MUSIC'
W/ RANI SINGH + BRET LUNSFORD + PHIL ELVERUM (MOUNT EERIE)
HOST: KURT OVERBERGH (ARTISTIC DIRECTOR AB) (16h)
A panel discussion about the life and work of Harry Smith. Our first guest will be RANI SINGH – director of the Harry Smith. Archives and Harry Smith's personal assistant during the final chapter of his life. Secondly we'll have BRET LUNSFORD, founding member of the indie band Beat Happening, historian and author of the recently published 'Sounding for Harry Smith: Early Pacific Northwest Influences'. In this book Lunsford reconstructs Harry Smith's younger years in Anacortes. They will be joined by a third guest: PHIL ELVERUM, the key figure of The Microphones and Mount Eerie. He also lives in Anacortes and collaborated on 'Sounding For Harry Smith'.
SCREENING: 'EARLY ABSTRACTIONS' (DIRECTOR: HARRY SMITH – 1939-1957 – 32 MIN) (17h30)
ACCOMPANIED LIVE ON PIANO & TAPE BY GIOVANNI DI DOMENICO
Harry Smith also loved experimenting with filmmaking. To highlight this aspect of his output we will be screening a series of seven short animation films, known as 'Early Abstractions'. Initially these shortfilms did not include any music, but later Smith added some soundtracks from 'Meet The Beatles', the second album of the Liverpool quartet. Showings of this series have had a longstanding history of being accompanied by (live) music, often completely different genres or tunes. Philip Glass and Kaitlyn Aurelia Smith have already given it a go, but at AB pianist and composer Giovanni Di Domenico will accompany 'Early Abstractions' musically. He was born in Rome, but now lives in Brussels. Previously he's worked with Chris Corsano, Jim O'Rourke and Okkuyng Lee.
Tickets available here: https://www.abconcerts.be/en/agenda/talks-screenings-w-rani-singh-bret-lunsford-phil-elverum/a105J000008G9UoQAK
05/27/2023 - 05/29/2023