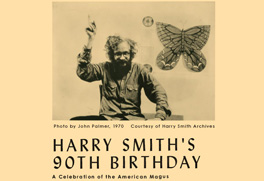 The Ace Hotel celebrates Harry Smith's 90th birthday with readings and live musical performances. Harry Smith, was born in Portland, Oregon, his amazing body of work and the impact of his vision — on those who knew him and the many more influenced by the legacy he left behind. Harry Smith was a one-time resident of our predecessor, the Breslin Hotel, and his spirit still speaks to us, within these walls and everywhere we go.
The Down Hill Strugglers keep alive the original underground sound made famous by his Anthology of American Folk Music.
DJ Ian Johnson of the Academy Records Radio show on East Village Radio plays roots, folk, country and blues.
More information available here.
05/29/2013
Location
Hollywood Theatre, Portland, OR