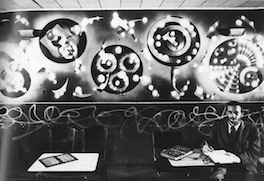 Elizabeth Pepin Silva and Lewis Watts
In the 1940s and 1950s San Francisco's Fillmore District in its heyday. An eclectic, integrated, and hopping neighborhood dotted with restaurants, pool halls, theaters, and shops many minority-owned, it boasted two dozen active nightclubs and music joints within its one square mile. Few people today know of the rich history of the Fillmore and its musical legacy because it vanished abruptly and so thoroughly due to redevelopment in the 1960s. Through dozens of archival photographs and oral accounts from the neighborhood residents and musicians who experienced it at its height, Harlem of the West celebrates this unique and rediscovered chapter in jazz history and the African-American experience on the West Coast.
2017 expanded re-issue! Featuring newly published images of Harry Smith's Jimbo's Bop City murals!
02/01/2017