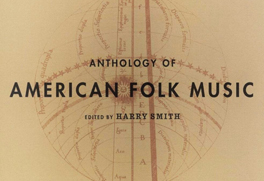 Revenant Records and the Harry Smith Archive present Volume Four of the Anthology of American Folk Music, a previously unissued chapter of the historic Anthology. Compiled by Harry Smith contemporaneously with the first three volumes, Volume 4 went unissued for almost 50 years. In conjunction with the Harry Smith Archives, Revenant presents Smith's "secret volume" in its intended song sequence, supplemented with essays by Ed Sanders (Fugs), John Cohen (New Lost City Ramblers), John Fahey, Dick Spottswood and Greil Marcus, along with previously unpublished photos of the young Harry Smith.
"There were to be four of them, and four volumes in the series. Red, Blue, Green were issued so that the element that was left out was earth…The real reason that it didn't come out was that I didn't have sufficient interest in it. I wanted to make more of a content analysis. I made phonetic transcriptions of all the words in the songs, but those notebooks got lost. The content analysis was like how many times the word 'railroad' was used during the Depression and how many times during the War. The proportions of different words that might have some significant meaning beyond their exterior. Certain ideas became popular, the word 'food' was used increasingly in the record catalogs during the Depression. I finally analyzed the catalogs rather than the records, because you can't do anything with such a small sample as there are in that set." – Harry Smith
More information available here.
05/23/2000