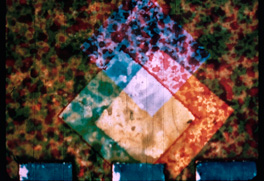 Northwest Film Forum presents a program dedicated to the early films of Harry Smith with a special introduction by Chuck Kleinhans, co-editor of Jump Cut media journal. Smith's early film experiments, known as the Early Abstractions, drew on his passion for American folk art and music, from indigenous song rituals and textiles, to syncopated jazz beats and Yiddish prayer. In these diverse cultural forms, Smith discovered different ways that bodily rhythms were animated and channeled through audiovisual forms.
Smith described his own experiments with hand-painting film as a meditativepractice that transmuted the body's vitality into moving images. The films in this program explore Smith's legacy in abstract animation, putting his work in conversation with some of his contemporaries and current film artists, who also explore the rhythmic and somatic dimensions of animated movement.
The program includes numerous rarely screened film prints, original live accompaniment to Smith's Early Abstractions led by Lori Goldston, and a live performance by Seattle-based filmmaker and musician Eric Ostrowski.
More information available here.
03/22/2014