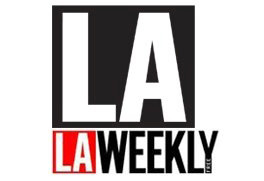 Seminal experimental animator, trickster anthropologist, psychedelic pioneer, self-taught scholar in a dozen fields, abstract painter, editor of the most important recorded collection of American folk music ever, occult master, legendary parasite, curatorial genius, shaman, Skid Row drunkard: People have called Harry Smith a lot of things. And these are the nicer ones. Known as much for his aroma, mercurial temper and confrontational table manners as for his actual art and scholarship,Smith himself — his entire way of being — was a sort of transgressive artwork designed to sift the groovy people from the phonies and set the latter scurrying. The result was, of course, lots and lots of pissed-off phonies and a handful of deeply loyal groovies, of whom gathered at the Getty Research Institute two weeks ago for "Harry Smith: The Avant-Garde in the American Vernacular.
The second in a series of conferences initiated by fledgling GRI director Tom Crow, "Harry Smith" quickly banished reservations left from the recent pedantic "Media Pop" conference by interspersing the delivery of scholarly papers with rare-film screenings, non-academic speakers and several musical events, including an all-star folk-veteran jamboree and a sensational live-soundtrack performance by Modern Jazz Quartet founder Percy Heath's trio. Producer Hal Willner, who orchestrated the Getty concert, also assembled a typical lineup of impeccably credentialed popular artists (Beck, Elvis Costello), chops-heavy pros (Bill Frisell, Daniel Lanois) and outsider weirdos (Pere Ubu's David Thomas, and Mary Margaret O'Hara, who delivered an operetta-like Dzpersonal breakdowndz) for the DzHarry Smith Project,dza pair of concerts at UCLA. The opening-night performance was pushing six hourswhen Garth Hudson sat down at the Royce Hall pipe organ and played a gut-rattling cartoon-gothic recessional as the survivors stumbled to their cars. (For more on the concert, see Music Reviews.)
The Getty conference brought together for the first time scholars, researchers and colleagues who have been wrestling with Smith's dense and rhizomic legacy since his death 10 years ago. Like the shamanistically dismembered magical creatures in Smith's more allegorical collage films, the severed limbs of his own scattered body of work were brought together in a tentative attempt at reconstituting the whole. Sifting truth from both rumor and Smith's own penchant for whole-cloth fabrication, especially in light of the tragic dissipation of the material legacy of his various practices, is a dicey proposition. Much of the conference was devoted to just this, and there were more than a few contradictory chronologies. Any biographical account of Smith has to be taken with a liberal sprinkling of allegedlys and reputedlys.
Harry Smith was born May 29, 1923, in Portland, Oregon, to a schoolteacher and a salmon-cannery watchman who were practicing members of theosophy — the occult society founded by Madame Blavatsky in the 19th century. Unless, that is, you credit his various deadpan claims to being the spawn of Aleister Crowley and Czarina Anastasia. His great-grandfather was a founder of the U.S. franchise of the Knights Templar, an offshoot of the Freemasons and central to some of the most baroque conspiracy theories going. His mother taught on the res, and young Harry subsequently spent a lot of time among the Native Americans of the Pacific Northwest, participating in shamanic initiation while developing keen interests in ethnography and anthropology, making copious recordings of Salish and Lummi ceremonies while still a teenager. (This unlikely autobiographical detail is improbably documented in a 1943 issue of American Magazine, which shows the geeky, bespectacled Smith fiddling with a primitive disc recorder before a group of bemused Lummi elders posed in front of an American flag. The caption reads "Injuneer.")
Smith studied anthro at the University of Washington for a couple of years, but then he went to Berkeley and smoked a marijuana cigarette, and it was game over for academe. Hanging with the proto-beatnik elite of the postwar Berkeley Renaissance, Smith began creating elaborate abstract paintings in which every element corresponded to a sound in a particular jazz recording. At the same time, he began making abstract animated films, each jittery whorl and blob hand-painted directly on the film stock and originally synchronized — as was demonstrated beyond a reasonable doubt thanks to the restoration workof William Moritz and Cindy Keefer of the Iota film archive in Culver City — to bootleg recordings of Dizzy Gillespie playing Latin-flavored bebop. All the while, he continued assembling and organizing a massive collection of "race" and "hillbilly" 78s from the 1920s — the basis for the landmark 1952 Anthology of American Folk Music for which Smith is today best known.
Smith's Lifetime Achievement Grammy in 1991 (the year of his death) and the 1997 reissue of the Anthology on CD garnered him more press than did his fairly stellar 40-year underground film career. One of the ongoing motifs of the GRI conference was the first-time meeting of two waves of scholarship — a more disorganized recent one focusing on the Anthology in the wake of Greil Marcus' obsession, and a long-entrenched contingent from the tightly policed playground of underground cinema. Understandably, the cinephiles seemed a little perturbed at their usurpation as authority figures. But not only were they good sports about it, they provided the most substantial new scholarship presented, as well as many of the most exciting visual and theatrical moments of the weekend.
Patron Saint of Truly Independent Film Jonas Mekas continually startled with his archly observed anecdotes, the previously unannounced debut of a brilliant lo-fi video compilation of his own documentary clips of Harry, and the dramatic last-minute announcement of a surprise grant from photographer-filmmaker Robert Frank to start building a Harry Smith annex for Mekas' Anthology Film Archives (this generosity, marking the anniversary of daughter Andrea Frank's 1974 death in a plane crash, moved Mekas visibly, rupturing the chattily decorous proceedings with a moment of silent awkward emotion). P. Adams Sitney's bombastic oratorical style gave his utterly convincing demonstration of the dual homages in Smith's hermetic stop-action clip-art masterpiece Heaven and Earth Magic (1961) — to Georges Melies (French pioneer of fantastic special-effects films) and contemporary psychoanalytic theory — an appropriately Barnumesque frisson. Still, after devoting thankless years to establishing the cultural centrality of Smith's films (while watching the artist himself spend decades in drug-addled poverty), the film buffs have found themselves overtaken by a tide of academic and popular interest in a project Smith abandoned in the early '50s.
Though already a key figure in a flourishing scene, Smith left the West Coast in 1951 for what appeared to be the greener pastures of Manhattan and the patronage of Baroness Hilla Rebay of the Guggenheim. Soon strapped for cash, Smith approached Folkways Records founder Moses Asch, offering to sell him the vast collection of 78s he'd been accumulating for over a decade. Asch obliged, but also suggested Harry assemble a series of LP records that Folkways could release. The resulting six-record Anthology of American Folk Music went on to occupy a fulcral point in the folk-music revival, tipping the balance away from the antiseptic vanillafications of the Kingston Trio et al. and toward what Bob Dylan characterized as "traditional music . . . based on hexagrams. It comes about from legends, Bibles, plagues, and it revolves around vegetables and death."
In spite of its universal citation as a depth charge of stylistic influence on 20th-century popular music, Smith considered the Anthology primarily as a tool for a sort of occult ritual invocation. Breaking the volumes down into an elemental quatrain of Earth, Water, Fire and Air (the fourth volume finding release only last year on the late John Fahey's Revenant label), arranging and annotating his selections in a kabalistically idiosyncratic way and controlling every aspect of the package design, Smith meticulously orchestrated the most widely distributed example of his quixotic organizational skills. "I felt social change would result from it," he later said. At face value, this may refer to the not-inconsiderable effect of turning a generation's attention to a lost body of exquisitely wrought testimony to the racism and poverty underlying the American Dream. Some commentators attribute the entire range of social upheavals that marked the second half of the 20th century to Smith's magic.
The most archetypally resonant outcome is Dylan himself, his messianic role in thecounterculture suggesting the possession of some hapless son of a Minnesota furniture dealer by the daemonic entity conjured from Smith's alchemical machinations. Okay, maybe not. But one of the great joys of Smith's complex and disparate oeuvre is that, whatever your point of entry, you're inexorably drawn into the artist's nonlinear way of thinking, suckered into searching for hidden correlations between seemingly discrete phenomena before you can whisper "paranoid." Still, as Notre Dame English professor Stephen Fredman observed in one of the most syncretic assessments of Smith's work presented, "Smith's art proposes not to excite admiration or to appeal to notions of taste, but rather to be efficacious, to make something happen. In that sense, the work is purely iconic rather than expressive: It doesn't make a statement — whether in the form of artistic commentary or political commitment or personal revelation — but rather invites participation."
Smith became a fixture on the NYC psychedelic boho scene, continuing to producefragments of increasingly ambitious film projects, while his Heaven and Earth Magic found favor among the hippies and with young animator Terry Gilliam.
Smith recorded The Fugs' first LP, Allen Ginsberg's songwriting debut, Peyote Ceremonies of the Kiowa, and countless cassettes filled with his massive unreleased soundscape project Materials for the Study of Religion and Culture in the Lower East Side, all while living in a cramped (usually Chelsea) hotel room with collections of rare books, records, Ukrainian Easter eggs, Mayan codices, Seminole patchwork dresses, tarot cards, mounted string figures (about which he composed a several-thousand-page treatise), and found paper airplanes.
Except for the paper airplanes, which were acquired by the Smithsonian Air and Space Museum, most of these valuable and carefully assembled curations were traded for food, shelter and medicine in the last decade of Smith's dissolute life. What remains is preserved thanks to the Anthology Film Archives and Rani Singh, who became Smith's assistant during his latter-day stint as shaman-in-residence at the Naropa Institute in Boulder. Singh, director of the Harry Smith Archives, is one of this year's Getty scholars. Her presence in L.A., along with the arrival of both former Folkways director (and supervisor of the Anthology reissue) Anthony Seeger and David Sefton (Willner's enabler in an earlier London version of the "Harry Smith Project") at UCLA, are just a few of many fortuitous coincidences that made the conference possible.
Though many of the scholars offered caveats to avoid hagiography, Smith clearly saw his whole life as a work of art, weaving the components together so that they couldn't be quartered without leaving tendrils of connective tissue trailing. Largerand more comprehensive surveys and symposia are being planned even now—Smith's extant paintings and graphic work, for instance, have never been collected and displayed — but as budgets grow, so does specialization. The GRI conference may have been the best shot we'll have for another 50 years to sew together this thrift-store Osiris and pump enough juice to get him up and staggering again. It's all well and good for scholars to say, "We have to focus on specific details, one can't possibly comprehend the whole," because that's how academics operate and how we got this far. Perhaps the most important lesson of Harry Smith's art is that you can think about and work with the whole, but you have to be willing to pay a price. Smith is at least as important a cultural figure as John Cage, but where Cage chose to dwell in the polite and lucrative glow of high cultural Importance, Smith operated more like a mole in the ground. And the labyrinthine tunnel system with which he honeycombed the mountainous canon of American culture is just beginning to be mapped.
[LA Weekly, May 4, 2001]
05/04/2001