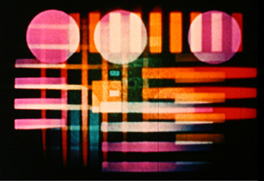 The Los Angles County Museum of Art and the Center for Visual Music proudly presents two film programs in conjunction with the exhibition "California Design: Living in a Modern Way." These programs include works by Oskar Fischinger, Jules Engel, Jordan Belson and Harry Smith.
Once upon a time, California was home to groundbreaking work in abstract, avant-garde animation. One of the most influential abstract animators was Oskar Fischinger (1900–1967), brought to Hollywood by Paramount from Berlin in 1936, thus becoming the direct link from the European avant-garde film movement to West Coast experimental filmmaking. Fischinger's animated films were quite successful in Europe in the 1930s, screening in first-run theatres worldwide. This program explores this rich, pre-digital history of abstract animation and "visual music," when Center for Visual Music (CVM) and LACMA present "Design in Motion: Oskar Fischinger and Abstract Animation," a two-part series highlighting California abstraction on film.
The first program, "Optical Poetry: An Oskar Fischinger Retrospective," includes his famous European work and films made in Hollywood. His films influenced generations of filmmakers, animators, and artists.
The final program, "Color and Form: Modernist Animation in California," features more abstract animation made in California and Fischinger's Muntz TV ad. In San Francisco, Belson began developing an entirely new abstract language in his films beginning in 1947, and we'll screen several rarely seen films, including Mandala and Caravan. Also in the Bay Area, Harry Smith produced his first hand-painted animations. In Los Angeles, Engel, emerging from UPA Studios, began making his own personal art films. His Landscape, Play Pen, and Mobiles screen Friday. And in Altadena, Charles Dockum invented a Mobilcolor light projection system, which he performed locally.
More information available here.
04/27/2012
Location
Columbia City Theater, Seattle, WA