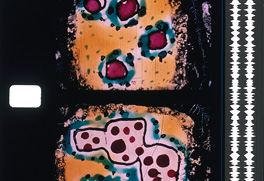 Underground Film Scholar Jack Sargeant presents an evening of experimental film with works by Harry Smith, Peter Whitehead and Antony Balch. Sargeant has long been fascinated by beat culture, which formed the basis for his book NAKED LENS: BEAT CINEMA (Soft Skull, 2008, first published in 1997),through three editions the book has become the definitive exploration of the beats and film. Combining works made by beat writers, their friends, affiliates and underground filmmakers, these three screenings offer a rare glimpse into areas such as 'spontaneous' cinema, improvised underground film, and beat notions of creativity. Mixing documentary works with experimental films, narrative features and dreamlike escapades; these films highlight the beat relation to cinema.
Jack Sargeant (Australia) is the author of numerous books and articles on underground film and contemporary counter-cultures, he has toured and curated screenings of underground and cult films across the world.
PROGRAM 1: A Universe of Possibilities
From the mystical and magical, through to the psychological, cultural and sexual potentialities of the emergent counter cultures, these films showcase the universe of possibilities opened and celebrated by beat culture.
Early Abstractions
Harry Smith | USA 23mins, 16mm, 1945- 1957
Wholly Communion
Peter Whitehead | UK 33mins, 35mm, 1965
Towers Open
Fire Antony Balch | UK 10mins, 16mm, 1963
09/28/2012
Location
Cabinet, Brooklyn, NY